Vita e Pensiero
Economics as a Moral Science: Menger vs. Keynes
new
digital
As known, Menger endorses a typically Weberian thesis: Economics should be conceived as a value-free science. On the contrary, Keynes seems to argue that economics should be considered a moral science. This paper intends to prove a) a possible compatibility at the epistemological level and b) an agreement even at the ethical level...
Validità logica e pluralismo aletico: due problemi e un'unica soluzione
new
digital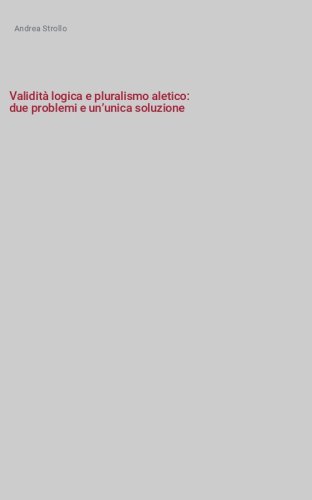 According to a standard formulation, alethic pluralism holds that there are many properties of truth. The position has been challenged to make sense of the traditional definition of logical validity, understood as a necessary truth preservation...
Esistenza, dialettica, valore nel pensiero di Giuseppe Cantillo
new
digital
The article aims to place Giuseppe Cantillo's studies collected in his latest two books, focused respectively on Hegel and dialectics and Jaspers and existence, in the overall research itinerary of the Italian philosopher....
Sulla possibilità di un'etica senza principi
new
digital
Most of the agents believe that acting morally entails the possibility of tracing their behavior back to norms, rules, principles. Ethical particularism in Dancy's version represents a radical challenge to this idea. For the particularist, those who act morally do not need to appeal to principles either to motivate their action ex ante or to explain it ex post...
Il Così parlò Zarathustra di Nietzsche e lo Zoroastro storico Una lettura dell'Avestā
new
digital
This paper focuses on Thus Spoke Zarathustra's main religious sources, especially the Persian Avesta. On the one hand, it shows how Nietzsche had a deep knowledge of the prophet Zoroaster, and, on the other hand, how the latter was considered a relevant figure in Nietzsche's time...
Hans Jonas and His Use of Plato's Theaetetus
new
digital
It can safely be argued that Plato plays a crucial, if not unique role for Hans Jonas. When pondering whether to assign the palm to Kant or to Plato in his Erinnerungen, Jonas himself admits: «With Plato [...] you have to go back a much greater distance to make him applicable to the present. But of course Plato is the greater one, the one we have to study again and again from scratch, the one we must discover, whereas we can get to know Kant thoroughly. With Plato, you're never finished, that's the great foundation [Grundlegung] for all of Western philosophy»...
Ragione, erudizione e religione in Lodovico Antonio Muratori
new
digital
In the attempts to establish a distinction between truths of faith and truths of reason, in the mid-seventeenth century Lodovico Antonio Muratori stands as an authoritative interpreter of both the autonomy and the compatibility of the two domains. Muratori identifies an avenue of inquiry based on the ideas of harmony and reasonableness and which recovers Galileo Galilei's belief in the separation of religion and science. Yet, he revives this belief through a strenuous dialogue with Protestant literature. Muratori's philosophical inquiry results in a clear distinction between different positions on Scriptures and dogma, and sacred and secular sciences. It also shapes an idea of Christianity that is profoundly renewed by the enlightening action of reason and is free from superstitions, fanaticism, wrong beliefs, and errors.
Analisi d'opere
digital
format:

Article

| RIVISTA DI FILOSOFIA NEO-SCOLASTICA - 2020 - 3. Rethinking Objectivity: With and Beyond Kant
F. Desideri, Origine dell'estetico. Dalle emozioni al giudizio (M. Portera) - R. Suitner (a cura di), Gli illuministi e i demoni. Il dibattito su magia e stregoneria dal Trentino all'Europa (R. Pozzo)
Beyond Neo-Kantianism and Phenomenology: A Signo-Interpretationally Inspired Account of Objectivity
digital
format:

Article

| RIVISTA DI FILOSOFIA NEO-SCOLASTICA - 2020 - 3. Rethinking Objectivity: With and Beyond Kant
The present paper aims to explore the possibility of rethinking the concept of objectivity by abandoning the idea that it cannot be defined except by its opposition to subjectivity. The leading idea is that such a dependence upon the contrast to the subjective dimension has impoverished the investigation prospects on the concept of objectivity. In order to propose this new way to look at the concept of objectivity, we will start from the early twentieth-century debate between Neo-Kantianism (Natorp) and Phenomenology (Husserl)...
Darsi la morte. Alcune riflessioni filosofiche su suicidio e suicidio medicalmente assistito
digital
format:

Article

| RIVISTA DI FILOSOFIA NEO-SCOLASTICA - 2020 - 3. Rethinking Objectivity: With and Beyond Kant
The concept of 'medically assisted suicide' has been recently introduced in the bioethical debate. In Italy, a recent verdict of the Constitutional Court has established a difference between helping and instigating suicide, thereby stating that in some clinical cases it is legitimate to help those who want to commit suicide. This way of considering the problem changes the standpoint and the theoretical framework on the suicide topic, which is placed in the medical context, and is at the same time confronted with both euthanasia and the remit of healthcare...
Possibilità e limiti dell'intelletto umano in Alessandro di Alessandria. Studio e edizione critica delle qq. 1-2 del Prologo del suo Commento alle Sentenze
digital
format:

Article

| RIVISTA DI FILOSOFIA NEO-SCOLASTICA - 2020 - 3. Rethinking Objectivity: With and Beyond Kant
This paper aims to provide a critical edition of the first two questions of the Prologue of the redactio posterior of the Commentary on the Sentences by Alessandro Bonini of Alessandria, Franciscan Master, successor of Duns Scotus at the chair of Theology at the University of Paris (1307-1308). In the context of his metatheological reflections, Alessandro presents his thoughts on the possibilities and limits of the human intellect in comparison with Henry of Ghent and Duns Scotus...
Ermenegildo Bertola (1909-2000). Profilo di uno storico della filosofia medievale
digital
format:

Article

| RIVISTA DI FILOSOFIA NEO-SCOLASTICA - 2020 - 3. Rethinking Objectivity: With and Beyond Kant
Ermenegildo Bertola (Vercelli, 1909-2000), was an important historian of medieval philosophy in the Italian academic panorama. In particular he pioneered the studies concerning the Jewish philosophical tradition. After a brief biographical note, the present contribution concisely focuses on some specific research topics regarding the history of medieval philosophy, the domain Bertola was mainly interested in...
Browse the archive
Recent issues
Available online
2020

issues