Pluralismo ontologico e ontologia della sostanza La critica di Putnam alla tesi quineana sull'indeterminatezza della traduzione
new
digital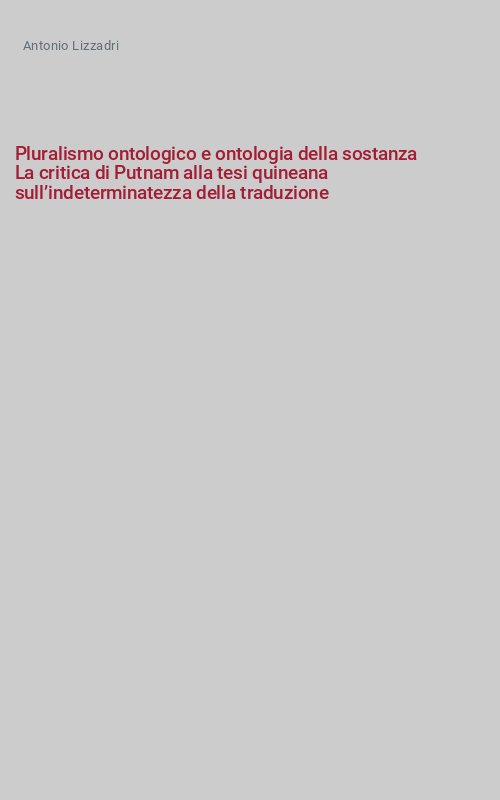 journal
RIVISTA DI FILOSOFIA NEO-SCOLASTICA
section
Online First
title
Pluralismo ontologico e ontologia della sostanza La critica di Putnam alla tesi quineana sull'indeterminatezza della traduzione

---

Ontological Pluralism and Ontology of the Substance. Putnam's Criticism on Quinean Thesis of the Indeterminacy of Translation

author
Antonio Lizzadri
publisher
Vita e Pensiero
format
Article |

Pdf

online since
09-2019
doi
10.26350/001050_000138
issn
00356247 (print)

|

18277926 (digital)
Write a comment for this product
Ebook format Pdf readable on these devices:
The paper provides an interpretation of Putnam's ontological pluralism as articulated in the Philosophical Papers and The Meaning and the Moral Sciences, with respect especially to Quine's ontological relativity. The model-theoretic argument is usually taken to support an anti-realist ontological view analogous to Quine's, on which determining the meaning of words univocally is impossible. Contrary to this view, the paper argues that Putnam's criticism of the indeterminacy of translation shows that the rejection of metaphysical realism does not amount to an anti-realist view. Rather, Putnam proposes a 'sophisitcated' realism admitting of a plurality of equivalent and mutually irreducible descriptions of the same fact. The paper concludes by pointing out that the compatibility between ontological pluralism and realism is the result of a synthesis of Aristotelianism and Kantianism obtained thanks to the mediation of pragmatism.
keywords
Ontological Pluralism, Realism, Indeterminacy of translation, Holism, Pragmatism
Author biography
antonio.lizzadri@unicatt.it
Chi ha visto questo prodotto ha guardato anche...