Giacomo Gambale
Titoli dell'autore
Dal peccato al reato. Studio sulle fonti penali della Divina Commedia
digital
Format:

Article

| RIVISTA DI FILOSOFIA NEO-SCOLASTICA - 2021 - 1 (Supplemento). Dante, la filosofia e la teologia in occasione del VII centenario della morte
Through the use of juridical sources, in his commentary on the Divine Comedy Pietro Alighieri analyzes the episodes of Dante's work from a criminal perspective and stresses the importance of the penal aspects of Dante's Hell...
Il primiloquium di Adamo. La "filosofia del linguaggio" in De Vulg. I iv 4
digital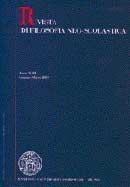 Format:

Article

| RIVISTA DI FILOSOFIA NEO-SCOLASTICA - 2010 - 3
Il tema della nascita della parola é affrontato da Dante all'altezza del I libro del De vulgari eloquentia: l'autore immagina come Dio si sia rivolto al primo uomo, Adamo, e come questi abbia risposto allo stesso Dio per mezzo del monosillabo El. Analizzare i diversi aspetti di tale soluzione significa constatare l'originalità del pensiero filosofico-linguistico di Dante, rispetto ad una lunga tradizione che ha visto nel linguaggio un semplice strumento di denotazione dell'oggetto. Diversi fattori concorrono all'elaborazione concettuale del primiloquium adamico, la parola prima, una voce monosillabica con funzione interiettiva, modello di un linguaggio che in modo originario esprime il rapporto dell'essere umano con la cosa, la res.
Browse the archive
Recent issues
Available online
2022

issues