Vita e Pensiero
L'estasi come fondazione della conoscenza. Lev Šestov lettore di Plotino
new
digital
Plotinus was a crucial author for the Russian philosopher Lev Shestov (1866-1938). He represented to him in many ways a real «philosophical alter ego» of Dostoevsky, since both – in Shestov's view – indicated a way of internal rebellion of thought against the excessive power of the Western logos. The Plotinian ecstasy is, for Shestov, the highest moment in the historical development of Greek thought and at the same time it is its breaking point...
La nuova alleanza. Per un'ermeneutica della finitezza
new
digital
A hermeneutics of finitude not insensitive to religious concerns may be expressed as a «temerarious discourse», which runs the risk of not pleasing either the disciples of an intangible Absolute that can never be endangered or questioned, or the supporters of a finitude destined without alternatives to the natural law of death...
Nuovi cieli e nuova terra. Prospettive cristiane sull'ecoteologia della salvezza
new
digital
This work aims to explore the eschatological theme of salvation with reference to our relationship with the natural order. First, we will delve into the thought of theologian Sallie McFague, who presents a reflection centered on the idea of Earth as the body of God. Through this metaphor, the Author intends to outline a theological perspective that leverages the unifying and ontologically relational bond that unites human beings and creation to God's saving love. We will then analyze the thought of Elizabeth Johnson...
Rilanciare la tolleranza ripensando le sue basi medievali? Riflessioni a partire da un libro di Cristophe Grellard
new
digital
The publication of Christophe Grellard's recent volume La possibilità dell'errore presents the Late-Medieval debates on erroneous conscience as a basis for the developments of the modern notion of tolerance. This work proposes a fruitful historiographical way of approaching the relationship between late-medieval debates and modern innovations; it also makes a reflection on the role that Thomas Aquinas played in the history of the idea of tolerance...
Sull'utilità della storia della filosofia per la filosofia. In memoria di Maria Rosa Antognazza
new
digital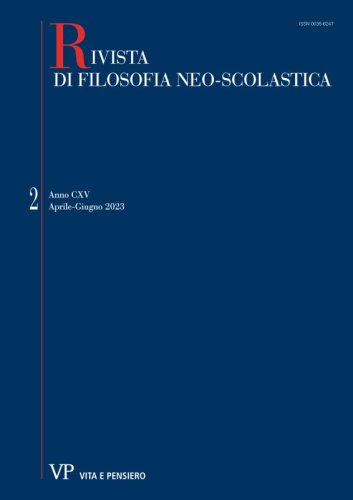 This essay traces the main stages in Maria Rosa Antognazza's research path, from her doctoral thesis on Leibniz to her latest, still unpublished volume on epistemology, and highlights that her work is a shining example of how the history of philosophy, properly understood, can be of great benefit to philosophy...
La teologia come scienza e il suo soggetto in Himbertus de Garda. Due questioni di metateologia dal Prologo del suo Commento alle Sentenze
new
digital
This paper aims to draw attention to Himbertus de Garda, a little known Franciscan theologian who studied in Paris around 1320, in order to reduce the undeserved obscurity into which he has fallen. It provides a critical edition of two questions of the Prologue to the Commentary on the Sentences of Himbertus, devoted to the object and the scientific status of theology...
Analisi d'opere
new
digital
R. Di Ceg lie, Aquinas on Faith, Reason, and Charity (F.L. Gallo), p. 511 – F. Minazzi, Epistemologia storico-evolutiva e neo-realismo logico (A. Lizzadri), p. 512 – H. Nowotny, Le macchine di Dio (R. Pozzo), p. 515 – F. Tomatis, Il Dio vivente (T. Mauri), p. 517 – S. Weil, La rivelazione indiana (E. Simonotti), p. 520 – Zenone di Elea, Frammenti e testimonianze (F. Eustacchi), p. 524
Di destini umani, punizioni e corpi animali Ps.-Timeo di Locri e l'Esegesi di Timeo 90e1-92c9
digital
This article focuses on the final sentences of the treatise attributed to Timaeus of Locri, which offers an interpretation of the closing section of Plato's Timaeus. The passage has long provoked debate on Timaeus of Locri's understanding of metempsychosis, some holding that he rejected it and reduced it to a persuasive myth, others holding that he accepted it without specifying his own interpretation of the matter...
La nascita del «neoliberalismo» e la posizione di Wilhelm Röpke nel dibattito del XX secolo
new
digital
This contribution aims to retrace the intellectual context in which the idea of «neoliberalism» during the so-called Walter Lippmann Colloque of 1938 was born, paying attention to some of its philosophical and ethical assumptions. The guiding thread of the analysis will be delimited by the conceptions of Wilhelm Röpke (1899-1966), one of the protagonists and witnesses of the birth of the concept of «neoliberalism», supporter of the renewal of an authentic liberal tradition....
Il problema della conoscenza a priori nei Philosophical Papers di Hilary Putnam
new
digital
This paper presents an interpretation of the early thought of Putnam about a priori knowledge, after Quine's Two Dogmas of Empiricism. While Quine's rejection of the distinction between analytic and synthetic statements and his epistemological holism involved the denial of a priori knowledge, this paper will show how, according to Putnam, they are coherent, underlining the epistemological value of pragmatic and extra-theoretical warrented assertibility criteria in the justification of empirical and formal scientific theories...
Mente, materia e pensiero. La strategia anti-lockiana di Mary Astell
new
digital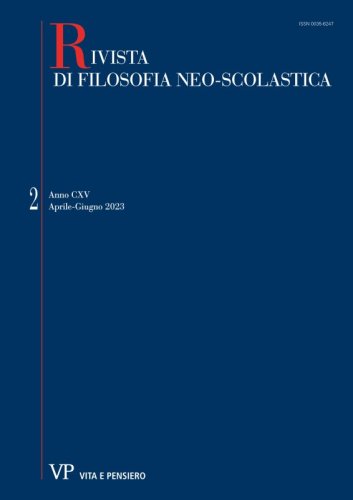 In The Christian Religion, As Profess'd by a Daughter of the Church of England (London 1705) by Mary Astell, the author challenges many aspects of John Locke's philosophy concerning theology, politics, ethics and religion. This manuscript focuses on one of her main criticisms against Locke, that is, her rejection of his view on thinking matter...
L'origine dell'imitazione e la natura delle cose nel libro X della Repubblica
new
digital
This paper deals with Plato's treatment of the metaphysical and epistemological status of mimesis in Republic 10. A new interpretation of the distinction between form, instrument and imitation is provided. A key role is played by the concept of use...
Browse the archive
Recent issues
Available online
2023

issues