Vita e Pensiero
Reinhold e l'autorappresentazione del soggetto: un problema e una possibile soluzione
digital
This essay reflects upon the subject's self-representation as proposed in the first volume of Beiträge zur Berichtigung bisheriger Mißverständnisse der Philosophen by K.L. Reinhold. The primary aim is to discuss the issue that the subject, while engaging in self-representation, is simultaneously on the side of the object. This results in an identity between the two poles, in contrast with the notion that separation between them allows the possibility for representation in general, and specifically, self-representation...
Etica e antropologia nel pensiero di Gustavo Bontadini
digital Gustavo Bontadini is generally known for his contribution to metaphysical reflection. Famous, indeed, is his «short discourse», a sort of direct path through which he intends to incontrovertibly demonstrate the existence of God. Equally famous is his polemic with Emanuele Severino, who forced Bontadini's neoclassical metaphysics within the narrow limits of a renewed Parmenidism...
Il dibattito sulla verità tra H.H. Joachim e F.P. Ramsey un'occasione di confronto per la filosofia contemporanea
digital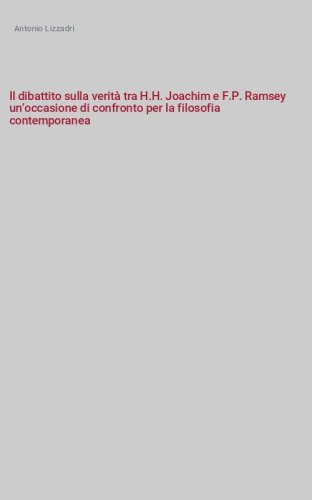 This paper presents the debate on truth between Neoidealism and Neoempiricism in Britain, with particular attention to Joachim and Ramsey. This debate allows to recognize some original positions within those philosophical traditions and their relevance with respect to the evelopments of the contemporary philosophy down to us...
Fenomenologia ed educazione teoria kairologica e prospettiva ontologico-esistenziale in Max Müller
digital
Max Müller, traditionally known as a Catholic disciple of Heidegger and an innovator of philosophical thought in the Neo-scholastic tradition, is, however, less known as an original thinker of the phenomenon of education. His interesting reflections on this subject are connected to occasional and institutional circumstances and have never received adequate systematisation...
RIVISTA DI FILOSOFIA NEO-SCOLASTICA - 2023 - 1
digital
Primo fascicolo del 2023
L'esistenzialismo non esiste. Ricoeur, Jaspers, Marcel e un libro ricusato
digital
Preceded by Karl Jaspers with Dufrenne, Ricoeur's Gabriel Marcel et Karl Jaspers came out in 1947 without introduction, in an existentialist and Sartrian climate (atheist: Heidegger, Sartre; Christian: Jaspers, Marcel), emphasized by Mounier. Ricoeur relies on elective kinships – but passed over in silence by both Jaspers and Marcel...
La autenticidad como vida felicitaria en Ortega y Gasset
digital
The purpose of this paper is to investigate the meaning of the idea of happiness within the Orteguian conception of authentic life...
Contraddittorietà del nulla e implicazioni di proprietà e relazioni nella manifestazione formale dell'essere
digital
This paper critically analyzes the naturalistic thesis of the necessity of the universe and firstly states its scientific unprovability. Then, with further arguments, it refutes this thesis, proving that the reasons for the existence of the universe cannot be found in the universe itself. Afterwards, starting from this conclusion and Leibniz's well-known observations concerning being and nothingness, the work demonstrates that nothingness is inconsistent and that the existence of the world implies a totally simple foundation...
Fra circolo e retta: la filosofia della storia di Proclo
digital
This paper deals with Proclus' philosophy of history, focusing in particular on his In Timaeum. In primis, it will examine his spiroidal conception of the cosmic becoming. In this conception, it will be possible to find the theoretical reasons that lead Proclus to think about the past as the place of a more authentic theological revelation...
Reflective Imagination: Time Perception in Thomas Aquinas II
digital
The following article constitutes Part Two of an inquiry into Thomas Aquinas's theory of time perception, dealing with the psychology of time perception in his commentaries on the De sensu et sensato and De memoria et reminiscencia (§ 1), and applying his account to the analysis of three temporal phenomena: linguistic utterances, musical intervals, and sensible motions (§ 2)...
Le radici kantiane del pessimismo di Schopenhauer
digital
Schopenhauer was often characterized as the philosopher of pessimism and irrational will, to be placed at the antipodes of the Kantian optimistic and rationalistic system. The theme and goal of this contribution is to show, on the basis of the examination of three interconnected topics, that Schopenhauer's theory does not represent the antithesis of Kant's thought, but rather depends on it...
Del ser a la existencia. Estudio de la crítica de Cornelio Fabro a Domingo Báñez
digital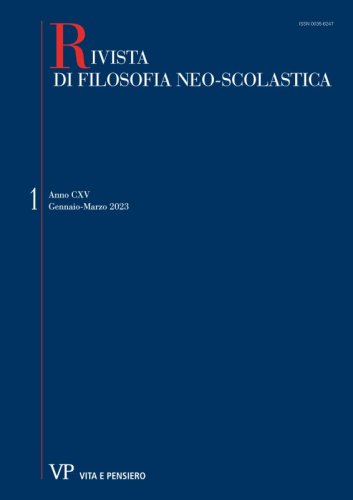 One of the most prominent debates in contemporary Thomism has been that of the historiography of the Dominican Thomist school. In 1958, Cornelio Fabro wrote a paper explaining the reasons why, in his view, the most famous commentators of this school, among them Domingo Bañez, would have misinterpreted the meaning of the actuality of the esse by identifying it with existence...
Browse the archive
Recent issues
Available online
2023

issues